Grand Valley Historical Society
The Grand Valley Historical Society, a group of individuals interested in compiling, preserving and presenting the area's history, meets quarterly on the second Monday of the months of January, April, July and October at 7:00 PM at the Battlement Mesa Historical School House.
Like much of the west, Battlement Mesa, Parachute, the Grand Valley and Colorado's Western Slope are rich in history.
The society's recent projects include the restoration of the Battlement Mesa School House, the relocation of the Glover Cabin and the acquisition and display of the Last Great Train Robbery art work.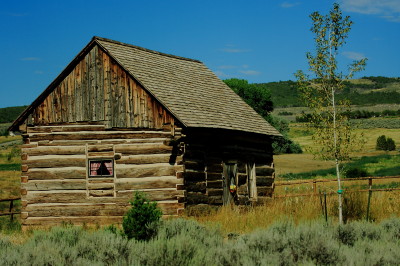 Throughout the year, the Society presents special performances or lectures on matters of historical significance. Recent presentations include Doug Misher as former President Theodore (Teddy) Roosevelt, Mary Jane Bradbury, as Margaret "Molly" Brown and Kathy Jordan, a Grand Junction historian who discussed the old settlement of Tunnel, in Debeque Canyon.
In June 2011, the official Quick read more or view full article unveiling of the "Last Great Train Robbery" paintings was held at the Parachute Town Hall when Gary Miller, the son of the late Western artist Jack Roberts, related his memories of the paintings. The three paintings, which depict the 1904 train robbery west of Battlement Mesa and Parachute, are now on display at the Parachute Town Hall.
Read Less
December in Crested Butte
The last snow storm sure made the start to December a beautiful one. Just this morning, while looking at our snow covered mountains I said, "I'll never get tired of this view". With 23 inches YTD and more snow expected this week, skiing is off to a great start. Photo below curtesy of TravelCrestedButte.
Decembers highlights...
December 3rd - Beacon Brush up
All backcountry skiers - this is a must attend event. Starts at 9:00 at the Community School. Free and free beer - really...you should go!
December 10th - Get the Girls Out ski event
Join some fabulous female CBMR Ski Instructors for a free day of skiing. Click Here for info.
December 10th - The World Famous Santa Ski and Crawl
Yes, I said world famous! Such a fun event - starts at 2:00. Sign up Here.
December 10th - Christmas Tree light up night
After skiing, stay up on the mountain for Quick read more or view full article the tree lighting, complete with hot cocoa and a visit from Santa.
December 18th - 23rd - Rock on Ice
Watch as two of the world's most renowned ice carvers create life sized sculpture.
December 23rd - Crested Butte Nordic Center Yurt Dinner
After 22 years of living in CB, this is still one of my favorite events. If the 23rd doesn't work, there are still more dates in December, Click Here for more info and dates.
December 24th - Torchlight Parade and Santa's Sleigh Ride
Watch Santa come down the mountain in his sleigh and hand out candy canes to all the kids. Starts at dusk.
December 30th - Warren Miller Presents; Here, There and Everywhere
Who doesn't love a good Warren Miller film and this one features Crested Butte! Click Here for tickets. Don't wait, this one will sell out.
December 31st - New Year Eve Torchlight Parade and Fireworks
This is another event that I don't miss. It's a perfect and festive way to end 2016. Dress warm it starts at dusk.
I honestly can't think of a better place to be in December than Crested Butte, the snow, lights and beauty make this place magical. For those looking for the latest travel deals click Here. If you are wanting a real estate update, check out my website or call me.
I hope to see you on the slopes!
Dawn
Read Less
Winter Wonderland...
Telluride is tucked into a box canyon surrounded by 13,000 and 14,000-foot peaks. The town of Telluride is just eight blocks wide and twelve blocks long. Because of its significant role in the history of the American West, the core area of Telluride was designated a National Historic Landmark District in 1964. This listing is the highest level of historic status available from the United States Secretary of the Interior. These sites are so special that they are eligible for consideration to become national parks. With the town's colorful Victorian-era homes, clapboard storefronts, boutiques, art galleries, gourmet restaurants, historic buildings and more, Telluride is a delight to explore. Our citizens are committed to preserving Telluride's historically significant architecture, open space, traditional design elements and, most of all, Telluride's small-town mountain lifestyle.